Field Trips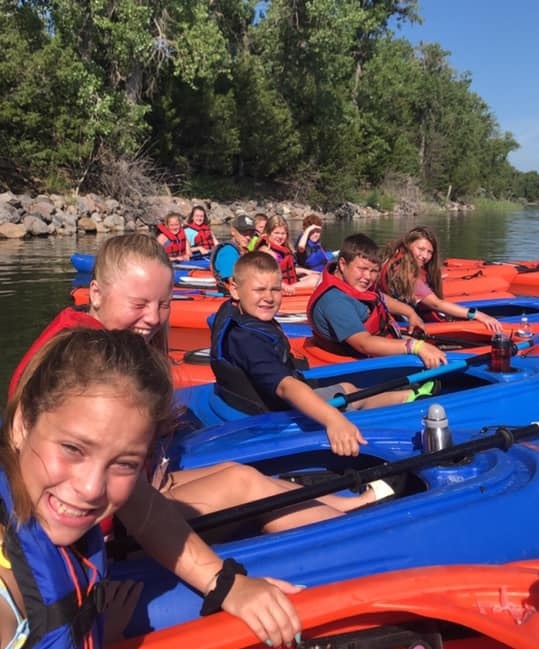 Venture deeper into science learning and hands-on discovery!

Extend your field trip to our exhibit hall with one of our fun, interactive programs or schedule an outreach program to come to you.
Fees:
$600 for a full day (2 3-hour programs, up to 5 1-hour programs, or up to 8 shows)
$400 for 3-hour Outdoor Explorations
$200 for 2-hour Virtual Field Trips
$150 for 1-hour Field Trips
$100 for 30-45-minute shows

Plus $0.42 per mile for out-of-town programs.

Please complete the form below to start the process to schedule your event!

FIELD TRIP SPECIAL:
All schools and groups from the following counties receive 50% off Field Trip Programs thanks to support from the Bankwest Foundation: Charles Mix, Davison, Douglas, Gregory, Haakon, Hughes, Hutchinson, Jackson, Jones, Lawrence, Lyman, McCook, Pennington, Potter, Stanley, Sully, Tripp, Todd, or Walworth

Please address your thank you note to the following address:
Bankwest
Attn: Charles Burke III
420 S Pierre St.
Pierre, SD 57501
---
3-Hour Outdoor Explorations
Our Outdoor Explorations provide opportunities for groups to enjoy the outdoors, explorer style! We use a combination of outdoor experiences, citizen science, and field journaling to explore. More than just outdoor fun, it's outdoor science! Our staff will work with you to create a meaningful, exciting experience that gets participants hands-on in the outdoors. The programs below are templates and can be tailored to your needs.
Kayaking
Fee: $400. For youth ages 10 and older. 10 students in kayaks at a time. Up to 30 students per group.
We will cover basic paddling skills and safety as we paddle the nearby Missouri River learning about the river up close! We regret that we do not have the right sized kayaks for children under the age of 9.

Field Investigations
$100 discount when combined with Kakaying program
For youth ages 9 and older. Up to 30 per group.
Learn skills explorers use in the field like observing and documenting. Can include field journaling, water quality testing and plant investigations.
---
Virtual 2-Hour Programs
Investigating Artifacts: Making Masks, Creating Myths, Exploring Middens
Join a virtual expedition to find clues to uncover the truth behind a mysterious object found buried in the soil at a local playground. Participants will report to the dig site (Edmodo) and meet with the Excavation Directors to receive their digging instruction. Participants will earn a digital badge for each clue they uncover during the excavation of the dig site (there are 5 total). Participants will learn about the role of masks and myths in various cultures as they create their own through hands-on, fun activities. Participants will be actively introduced to ways archaeologists and anthropologists investigate the past as they excavate a virtual archeological site, classify artifacts, and use their imagination and reasoning to make inferences about their use. The virtual field trip is facilitated through Edmodo and Zoom over a span of about 2 hours.
Up to 100 students. Grades 2 – 6.

Star Exploration: Mystical Mythologies
Join a virtual mission to explore and learn about the myth, the legend, the super constellation of the night sky, the Big Dipper. Participants will report to Mission Control (Edmodo) and join a live, remote meeting to be given instructions on how to complete 5 missions. Participants will earn digital mission patches and a certificate after completing the missions. The virtual field trip is bookended by two missions facilitated via Zoom, that require real time participation. The other missions are scheduled to be released to participants over the span of about two hours. These missions connect participants through posts within Edmodo.
Up to 100 students. Grades 2 – 6.
---
1-Hour Programs
Get your students revved up on science! Watch as they learn how much FUN science can be! Our presenters will inspire students with engaging science demonstrations and hands-on activities. All field trips are aligned to state standards and are specifically designed with your students' educational needs in mind to support your efforts to encourage their love of science.

Science of Flight
In this exciting hands-on program, students will explore the forces of flight and hone their engineering skills by constructing and testing their own fliers. It can be a great spark for science fair projects and Newton's Law lessons.
Up to 20 students per group. Grades 2 - 8.

Bubble Festival
This hands-on, inquiry-based exploration of bubble science will develop questioning, observation and problem solving.
Up to 25 students per group. Grades K - 6.

Be an Explorer
This inquiry-based program on nearby La Framboise Island will engage your students in exploring the natural world through all their senses.
Up to 20 students per group. Grades 3 - 12.

Solids, Liquids, Gases
Believe it or not, not everything boils at 100 degrees C and freezes at 0 degrees C. Experiment with what happens to balloons, rubber balls, hot dogs and flowers when they meet with liquid nitrogen and dry ice. Learning about the states of matter has never been so exciting.
Up to 25 students per group. Grades 2 - 6.
---
30-45-Minute Shows
Astronomy – Planetarium
Step into our portable planetarium and discover the wonders of the universe.
Up to 25 youth or 20 adults per group. All Ages.

Phantom of the Universe – Planetarium Movie
Join us on the hunt for dark matter and explore the deep science that happens a mile underground in the Sanford Underground Research Facility.
Up to 25 youth or 20 adults per group. Grades 5 and up.