Volunteer
Join the Discovery Pod!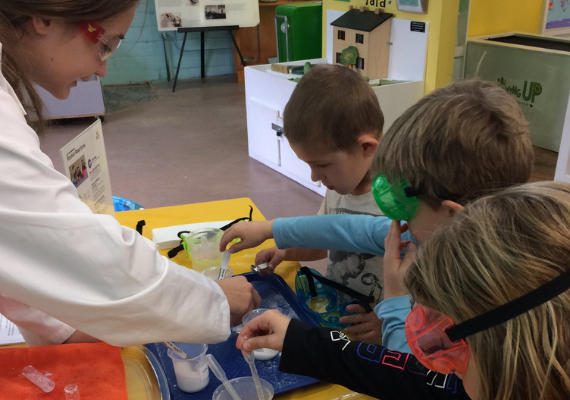 Volunteers are vital members of the South Dakota Discovery Center team.
They help with everything from visitor experience, exhibit hall maintenance, to assisting with classes and special events. We are always looking for energetic and enthusiastic people to join our Discovery Pod!
Use this great opportunity to learn more about STEAM (science, technology, engineering, arts, and math) and the backstage works of a science center. Acquire valuable teaching and leadership skills and help us inspire kids to explore nature and science!
Want to know more? Email Allison or call her at 605-224-8295.
These are some of our current volunteer opportunities:
Exhibit Hall --

helping guests with exhibits, keeping the exhibits clean and ready for visitors, setting up birthday parties

times: mostly weekends

recommended ages: 12 - adult

orientation provided
Planetarium Shows -- learn how to operate the planetarium and present your own star shows (Starry Saturdays and in school outreach)

times: 2nd Saturday each month, optional: weekdays
recommended ages: 17 - adult
training provided



STEM Kit Inventory -- help us inventory and restock our STEM teaching kits

times: flexible
recommended ages: 14 - adult
orientation provided
Classes and Camps – assist with our camps and classes

times: mostly weekdays
recommended ages: 14 - adult
orientation provided


Citizen Science Projects -- collect data and inform research projects with NASA's TEMPO Ozone Garden, GLOBE Observer, iNaturalist and others.

times: flexible
recommended ages: 12 - adult
orientation provided